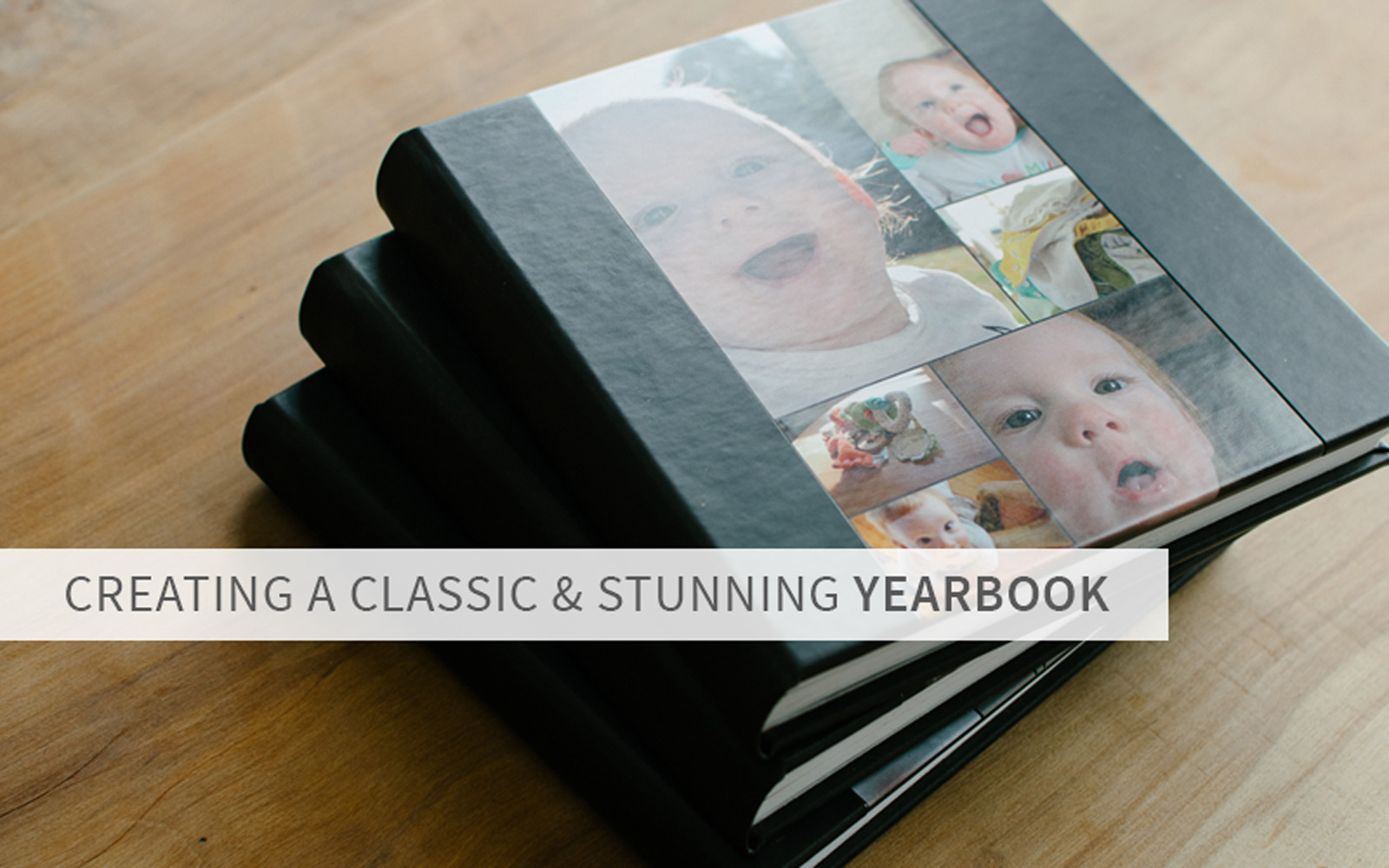 After we had our daughter Haverly (have-er-lee) I started taking photo's like crazy, even borrowed a friends old DSLR for like a year (until she got together with other family & friends and they bought me my own for a 30th Birthday present). I knew I wanted to create the baby's first yearbook and then got to thinking about how much fun it was as a  young child to look at photos. But we don't really print photos anymore, just hand the few on our gallery wall. So how would Haverly ever get this same experience?
Mitch even grew up with the same experience, his Nana was big on taking photo's of the boys as they grew. She still currently has a photo album per year for there entire childhood.
So I set out to find a classic photobook, that was cost effective, and didn't have so many options my head was spinning. I stumbled upon MontageBook and the process sold me. Three books later (Our photos pre-baby, 2015's yearbook, and Haverly's baby book) and we couldn't be happier with the results.
What to put in your yearbook
Obviously we like these montagebooks or we wouldn't already have three of them, so making a yearbook in December is becoming a tradition of our's, that way we get the book by Christmas (or shortly after if I've been lazy), and they only take about 3-5 days to be printed and sent out.
If your asking "If its a yearbook wouldn't you wait until after the first of the year to order?" Then you would be correct, thats one way of doing things. We happen to like to review the year at Christmas with Haverly looking at pictures.
Therefore, our yearbook goes winter- winter and includes the previous years Christmas. That means our 2016 yearbook will have 2015's Christmas in it and run right up to the first or second week of December 2016.
I try not to take the yearbook too seriously, because then I'll try to make it perfect and you know how that goes... it never gets ordered and looked at because you can't get it just right. Or you miss the sale opportunity because you can't get it just right in time, so your waiting to order....and waiting.
Our "list" of must haves for the yearbook
Events (Weddings, Birthdays)
Milestones (Promotions, Births, Graduations)
Projects (Remodel Before & Afters, DIY's)
Time Sensitive (Pictures of your child playing with a toy they love and will outgrow by next year)
The Everyday (photos that you uploaded to Facebook & Instagram) This is about real life, not just picture perfect poses.
In one of our books we put pictures of the litter our Sadie & Freeway made. Obviously these are not "our" dogs anymore, but we wouldn't want to miss telling Haverly about that time we were German Shepherd Breeders and how much fun it was to experience that.
Also, our porch remodel we went through right after Haverly was born (like two weeks after!) It was such a significant time in our lives because it has changed the way we live in this household, we want to remember that.
I'm sure as we continue archiving our projects with the blog we may not put as many examples of projects in our yearbooks, but it still is nice for us to look back on some adventures.
How we Layout our Yearbook
This is similar to if you wanted to scrapbook or print and put together a photo album yourself. You can have:
Monthly spreads
Seasonal Sections
Chronological Order
All Mixed up
I really wanted to go through all our pictures monthly and create spreads this year, but every month came to an end , and I hadn't done the work. Therefore, I just took all my photos for the year filed by date and start narrowing down from there.
Managing your photo collection to make a yearbook
Lightroom
I've been using Lightroom for a few months and couldn't live without it. It catalogs all of my photos and I can create collections, keywords, etc. to keep things organized. I also do all of my edits in Lightroom at this point (I haven't gotten into Photoshop much yet).
I won't go in to too much detail but I will say if your looking for a program that can handle your ever growing collection of photos this is wonderful and at just 10$ a month for it, and Photoshop CC, so you can start editing and creating some amazing photos.
Apple Photos or iPhone
Before Lightroom I just used my apple photos app to manage and organize everything. Without having started this blog I may have always stuck with the photos app, it was just so intuitive and easy to use.
Amazon Prime Photos
If you don't have a Mac or iPhone and subsequently can't use apple's photos app, Amazon Prime photos has unlimited storage (with your prime membership) and it seems they just updated the app. All my phone's photos get backed up to Amazon as do most of my computers photos. The really nice thing about Amazon's photo storage is that Montagebook.com with pull directly from Amazon so you don't have to upload photos from your computer unless you would like too.
Using Filters or Presets
Most of us have used filters in one social media account or another, but they can tend to make our photos look a little fake. I've found a few options that work really well.
Lightroom CC already has presets loaded and you can start playing around there.
Pretty Presets has presets for Lightroom that have worked very well for me thus far.
VSCO is an robust app that you can use to apply filters to your photos and then adjust the intensity of the filter. I've used this app on many photos for our yearbooks and various social media posts.
Although you could theoretically apply one filter to all of your photos in Lightroom CC , I wouldn't recommend it. Your yearbook will be uniform, but some pictures will just loose there "reality", and the whole point of a yearbook is to accurately depict life correct?
So I use filters for my black and whites, and possibly for a yearbook spread or seasonal section.  I would pull all of my outside fall photos and apply a filter , and all my winter with another filter, etc.
How the process works with MontageBook
You Upload
Lightroom- I started with my 2016 photos, narrowed them down, and imported into MontageBook.com. This is the base of my yearbook, after I've uploaded and changed some of the yearbook pages I then...
Facebook- Look in my Facebook for any photos someone else possible posted that I didn't take or an event like a friends Wedding.
Amazon Prime- Finally I'll take a look at these photos for anything amazing from my I-phone that really needs to be in our yearbook to complete it.
I've found that your uploads from your computer go into Montagebook by date, while subsequent uploads for Facebook, Amazon, or the other apps will not be added in chronological order. They must just get uploaded that way because they were organized chronologically.
Keep that in mind, if everything is mixed and you really wanted it to build in chronological order you will have a lot of moving photos on your hands.
All in all, its really easy to get your photos onto the website, and they will auto create the pages for you to start with.
Front cover & Options
How can you not fall in love with a simple, streamlined, and fun cover like these? Its really easy to swap out photos .
You can also create a whole other layout to your cover page by just hitting shuffle.
Typically I'll go through and hit the shuffle until I find a cover that is close to complete. Then I go ahead and move a few of the photos in or out.
Voila! A truly unique cover page with all your favorites.
Layout Themes
You can choose from a variety of themes for the layout of your photobook (White with gold, color blocking, modern patterns, grunge, geometric, etc). We've personally only ever used the magazine white and portfolio white for their simplicity and professional look.
The white space in this portfolio white can really help your photos pop
But a background can be nice if you are doing something specific like a baby book. Below the watercolor theme is really fun, especially for summer photos.
Layout
This process is almost done for you, especially if you can get over having everything be perfect and just go with it. In other programs it seems you have to change the photos and rearrange a lot. You end up sick of the photos you took before you even order the books!
Heres the first pages straight from the app doing its thing:
This page should be relocated it's off chronologically but not by much. Montage book even makes that change simple and easy. You can grab thumbnails of the pages and move them around.
Here is a winter scene from last year, MontageBook took all of the photos and made sure they were together. Not much I would have to do to edit something like this.
Layout changes
If you want to change around the layout of a particular spread, it as easy as hitting the button change layout.
Below I deleted a photo off the page (I can always grab it and add it back into the book at anytime).

And here I hit the change layout button again to get something I liked.

Ordering
Once your all done with a few adjustments, your all set to order. They have only a few extra options: a storage box, and premium paper. That makes ordering simple, and the end result a classic photo book with just enough variation.
We've found the 8x8's to be the perfect size, substantial enough without being this huge book that will never fit on a bookcase. When I ordered our 2016 yearbook the estimated delivery was mere 5 days later!
Reality Check
Although these are very fairly priced for the quality of product you get, I have to cut down how many photos I upload. The book's come with 20 pages and any after that would be extra (Even one spread for each month of the year will put you over the 20 pages). So you can easily get above and beyond the base price for the books.