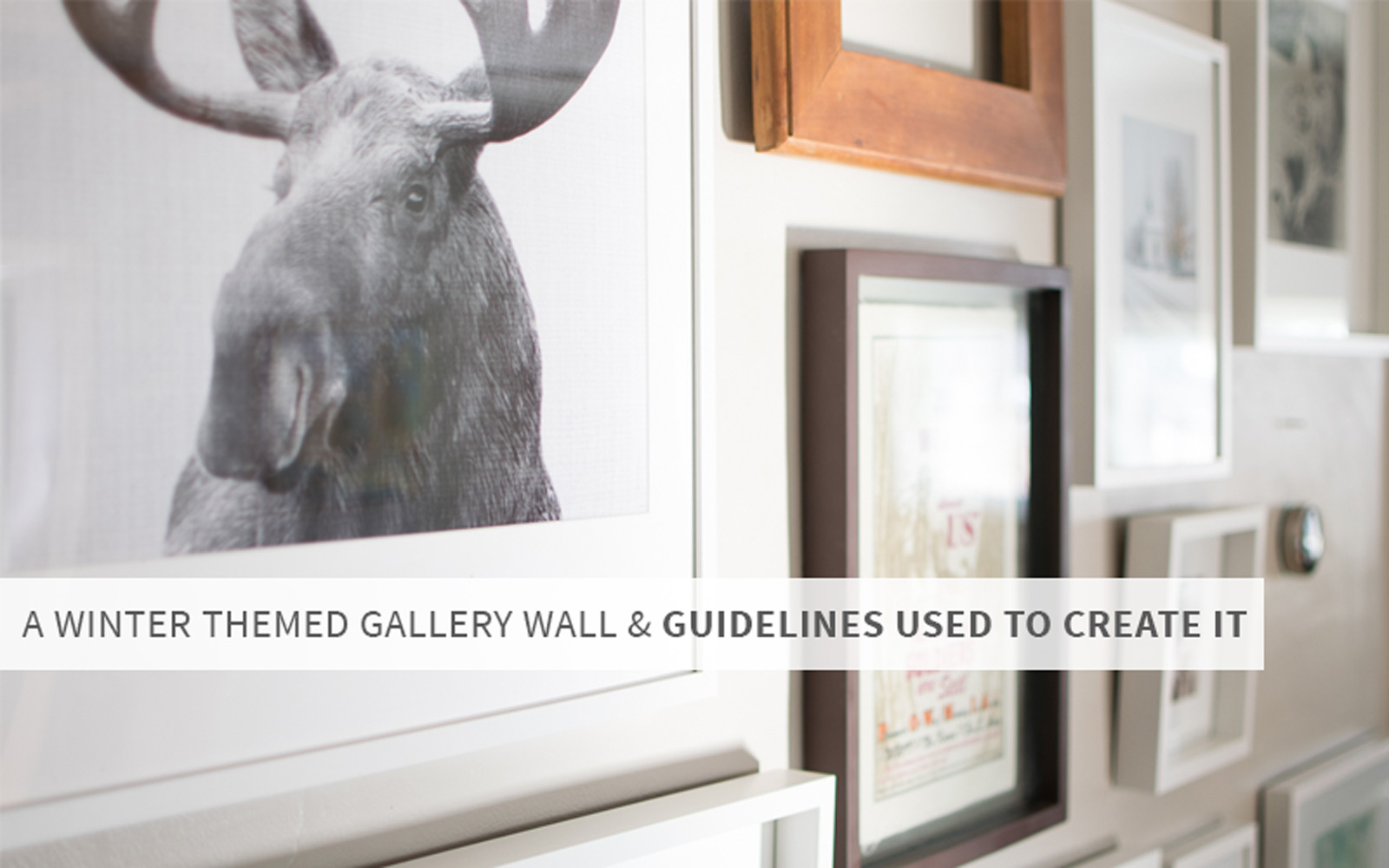 We really like to switch up our gallery wall in the living room in order to keep things fresh. If you haven't already read all about our fall set up you can take a look back here. Normally my "winter" photos would consist of the previous years in order to get some snowy ones up on the wall. Luckily, we got a bit of early snow this year and were able to run out to get our Christmas tree (which obviously I was already super late getting because that's how we roll in this household). So we got Haverly all bundled up and ran out with the camera to try and get a few winter photos.
The day after I finished putting together this display and ordering prints, we got hit with more snow!
We ended up having an epic photo session with the dogs while Mitch raked the snow off our roof. I'm so excited to put these into next years yearbook (check out 2016's yearbook here) and up on 2017 winter gallery wall. Who can resist some dog photo's?
He looks so sweet... and then you see the toddler mid fall from him barreling by.
Setting the winter gallery wall  up
Typically, I pick out my biggest print first, then make decisions on my others depending on how they fit with the biggest print. In this case, I went ahead and ordered an instant download from LILAxLOLA's Etsy Shop of this bad boy.
Moose hold a special place in my heart since they were my father's favorite animal. Every year we would get him a new small stuffed animal to ride around on his truck's dash board and "protect him". If he had a spirit animal, I'm sure it was a Moose.
Guidelines are good
Just like in our Fall gallery wall, we have some pieces of art that are currently just staying in place. With the Moose Print and the art staying in place I was provided with some guidelines.
The rest of the photos needed to loosely fit within the "winter theme"
Integrate well with the Moose print
Not clash with the current art pieces (if you can even consider my 7th grade mask with puffy paint "ART")
Constraints always make it easier to make decisions, but they don't eliminate all issues. When I just cannot decide which photo to use, I'll turn to Mitch and give him two to choose from. If he has a strong feeling one way or the other I go with it. The wall doesn't need to be a literal gallery art wall, it just needs to be something that makes us both smile.
Move on to the second largest
At this point a large print has been picked, and all the art work has stayed. Then you'll want to pick the second largest pieces and put them up on the wall in a balanced fashion. That meant I needed a black and white print to balance the Moose on the left side.
Adding a Preset in Lightroom for Black & White Prints
This was a fairly easy change to make since I've previously purchased a set of the Fan Favorites Presets from Pretty Presets. One Click on Matte B&W and I was all set, just made this photo.
Filling in with other pictures
Once I had visual balance, the photos that were left over were easy to choose. Which ones out of my favorite 5-10 would fit well in each frame? I have two 5x5's, and the two 12x12's that just don't take any photo because the square can end up cropping out too much.
I uploaded all of them and started looking at them cropped for 5x5's and then 8x10's, made decisions from what looked best.
Reality Check
You don't have to look hard in these pictures to find some check list items for the living room to-do list. We went ahead and put a speciality finish on our baseboards to cut down on chipping paint from the dogs laying on that wall, and then never painted them again. The Nest thermostat needs some touch up paint from this summer when we installed our central air (the thermostat and smoke detectors were the best decision ever!)
This shouldn't be a surprise to anyone who knows us, we like to start projects not finish them. I don't let the unfinished diminish the beauty we find in our funky old house, or our crazy giant lives. In February we will be wrapping up some of these living room checklist items and adding a few additional projects for you to see.
Were spending this holiday weekend watching our family favorites, White Christmas & It's a Wonderful Life, and snuggling with our daughter as much as possible. Has any one else ever noticed how strikingly similar the original Barbie looks to Vera-Ellen in White Christmas?  
Wishing everyone a Merry Christmas and Happy New Year! We will be back in January working on our dining room re-do and updating on what we have in store for 2017!